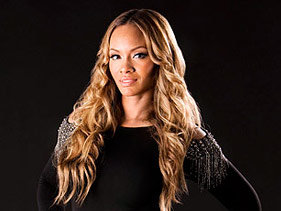 Evelyn Lozada was born in Brooklyn, raised in the boogie-down Bronx and is always in a New York state of mind. Raised solely by her mother, this Puerto Rican beauty always aspired to break out of her relatively small world and always dreamt of something bigger and better. Evelyn had her first taste of the entertainment world when she took a job as an assistant to a well known entertainment attorney to the stars and would eventually meet and become engaged to the basketball star, Antoine Walker. Evelyn moved to her adopted hometown of Miami in 2007 and now co-owns Dulce (and dulceshoes.net) an upscale shoe boutique located in Coral Gables, Florida. Dulce now allows Evelyn to live out her childhood dreams of fashion. In addition to being a socialite that supports many charitable causes, Evelyn takes great pride in being a devoted mother and businesswoman. She is highly regarded as a fashionista and style trendsetter. Even before she founded Dulce, Evelyn was photographed not just because of ex-fiancé's game, but because of her own impressive "shoe game". Now single and wanting another child, Evelyn is on the hunt for a new lover.
Ad blocker interference detected!
Wikia is a free-to-use site that makes money from advertising. We have a modified experience for viewers using ad blockers

Wikia is not accessible if you've made further modifications. Remove the custom ad blocker rule(s) and the page will load as expected.